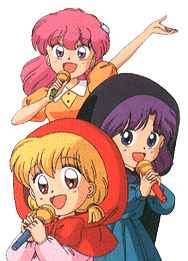 Akazukin Chacha

(90)



Other Title(s)
Red Riding Hood Chacha
赤ずきんチャチャ
Genre(s)
Comedy, Fantasy, Magic, Mahou Shoujo
Episode(s)
74
Synopsis
Akazukin Chacha is the story of a young witch, ChaCha, who lives with her master Seravi on Mt. Mochimochi. She is young and impressionable, but not the brightest of students (her magic never seems to work quite right).