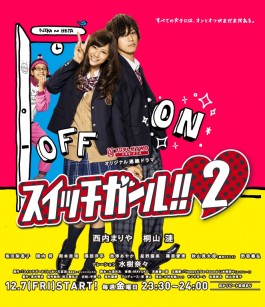 Switch Girl!! 2

(4012)



Other Title(s)
Switch Girl!! 2
スイッチガール!! 2
Genre(s)
Comedy, Romance, School, Youth
Episode(s)
8
Synopsis
Nika and Arata are finally together, and with their looks and lovey atmosphere they are the best couple in school. Season two will show how they further develop understanding of each other, and maybe even move their relationship to the next level... With more adventures to come up with their friends, how long can Nika keep her 'switch off' self a secret? The drama gets more a more serious plot into the lives of their friends, as Nika and Arata help them with their problems.