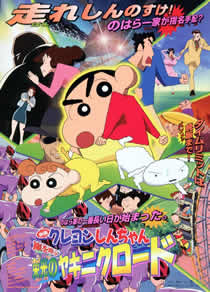 Eiga Crayon Shin-chan: Arashi o Yobu Eikou no Yakiniku Road

(397)



Other Title(s)
映画 クレヨンしんちゃん 嵐を呼ぶ栄光のヤキニクロード
Crayon Shin-chan - Film 11, Crayon Shin-chan Movie 11
Genre(s)
Comedy
Episode(s)
1
Synopsis
Annoyed with the poor quality of breakfast, Shin-chan is delighted to hear that dinner is going to be a first-class barbeque. However, soon after, a young man comes in, followed by an older man who orders the Nohara family to hand over what the young man gave to them. However, they had not received anything from the young man, and as the scary man approaches they flee. As a result, they are surprised to find themselves listed as wanted criminals.

However, after some research, they find out that the men were from an organization named 'Sweet Boys', their headquarters located in Atami. The family makes it's way to Atami, but they are intercepted by the 'Sweet Boys' and are separated, Shin-chan finding himself back in Kasukabe. Will the Nohara family really be able to eat the barbeque?