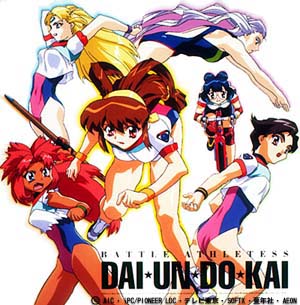 Battle Athletess Daiundoukai (1997)

(364)



Other Title(s)
バトルアスリーテス大運動会 (1997)
Battle Athletes Victory
Genre(s)
Action, Comedy, School Life, SciFi, Shoujo Ai, Sports
Episode(s)
26
Synopsis
Welcome to the United Systems Sports Academy [USSA], where the elite from around the solar system come to hone their athletic prowess with the technologically enhanced training facilities and the renowned coaching staff. For many, the grueling, full contact competition against humanities strongest and most ambitious athletes is the beginning of a dream to become the next Tomoe Midou, the first Battle Athletes Competition winner, and most famous of all sports champions. However, for Akari Kanzaki, Tomoe Midou`s daughter, the trails of the academy and it`s scheming students provide a path of self discovery and a chance to step out from her mothers shadow. Battle Athletes: Victory is sentimental and filled with passionate characters, but it doesnt go overboard with it. Track&Field, in a futuristic environment. Almost violent, but not bloody.