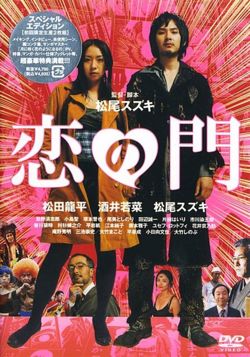 Koi no mon

(3309)



Other Title(s)
Otakus in Love

Genre(s)
Romance, Comedy, Drama
Episode(s)
1
Synopsis
Mon Aoki (Ryuhei Matsuda) is a down-on-his-luck manga artist who can't seem to hold down a steady job, partly due to his hobo-like attire and partly due to his stubborn belief that one day his art will actually sell. The only problem with that belief is he doesn't draw traditional manga; he paints on rocks and arranges them in wooden boxes, a method that hasn't quite captured the imaginations of rabid manga fans as of yet. One day while trying to find his way to the next part-time job he spots a particularly manga-worthy rock on the ground. When he bends down to pick it up (after an overly-flashy slow motion dive set to up-tempo music, of course) a young woman's heel comes crashing down on his hand. After a hearty yelp of anguish her eyes meet his and his eyes meet her panties. Yep, it's love at first sight. The moment is interrupted however, because she's late for work at Tsugino Happy Inc., a company where nothing is tolerated but happiness (and complete subordination).
As fate would have it Tsugino Happy Inc. just happens to be where Mon has his new part-time job. The girl who stepped on Mon earlier, Koino (Wakana Sakai), recognizes him right away and following some dressing-down from their perpetually-enraged boss it comes out that he's a self-proclaimed "manga artisan". Being a closet manga artist herself, Koino immediately becomes fascinated by this bit of information, and in Mon. Due to a mishap with a quibbling co-worker his employment only lasts a few hours but before he leaves Koino invites him to her place for drinks. She gets him completely drunk and he wakes up the next morning believing that she's made a man of him. Instead, she's made him into a cosplayer. To his horror he realizes he's dressed up like Yunsung from Soul Caliber II. Thus begins their topsy-turvy relationship complete with the mandatory "will they or won't they?" overtones and the random mishaps and misunderstandings you would expect in a romantic comedy, albeit appropriately much more ridiculous. Things are never really allowed to get too sappy because whenever things start to go that way something will miraculously interrupt it, whether that be random vomiting or a random nervous breakdown. This film has, as one of Koino's fans would put it, "a gift for reckless plot twists".