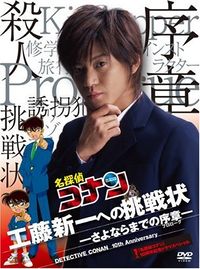 Detective Conan Movie 1 : Kudo Shinichi he no Chosenjo (Live-Action)

(2205)



Other Title(s)
名探偵コナン- 工藤新一への挑戦状
Detective Conan: Kudo Shinichi\
Genre(s)
Comedy, Detective, Romance, Shounen, Mystery
Episode(s)
1
Synopsis
This tanpatsu celebrates the tenth year of this popular Japanese anime, originally a manga created by Aoyama Gosho. The story takes place when Shinichi was still a high school student. The talented young detective Kudo Shinichi receives a message: 'I will kidnap one of your classmates during your class trip.' Shinichi is going to find out the truth.