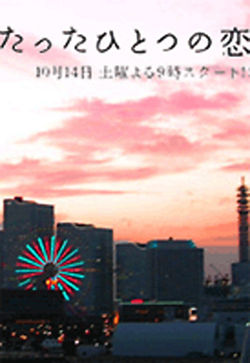 Tatta Hitotsu no Koi

(2204)



Other Title(s)
たったひとつの恋
Love of my Life
Genre(s)
Romance, Drama
Episode(s)
10
Synopsis
If you feel you have lost the purity of your soul by watching stories about rich womanizers seducing impudent women, or by carrying out calculated maneuvers in your own love life, here is a story for you. A boy and a girl from opposite social backgrounds meet and fall in love, a straightforward love which is only possible for a 20-year-old couple. Their love, of course, faces a lot of obstacles. The setting is Yokohama, a modern port city known for its romantic atmosphere.

Hiroto Kanzaki (Kazuya Kamenashi) works hard every day and night to fight for the survival of a small ship repair factory inherited from his father, and to support his mother and young brother, who has health problems. Living such an underprivileged life, Hiroto has forgotten how to smile. In contrast to him, Nao Tsukioka (Haruka Ayase) is the daughter of a popular jewelry shop owner on a fashionable street in Yokohama. She was born with a silver spoon in her mouth, literally. Nao attends a prestigious women's college and grew up cheerful, blessed with affluent love. From the moment Hiroto meets her, his closed mind gradually opens up to Nao, who is so innocent that she utters whatever is on her mind. Their three close friends, who are also 20 years of age, play an important role in their developing relationship.