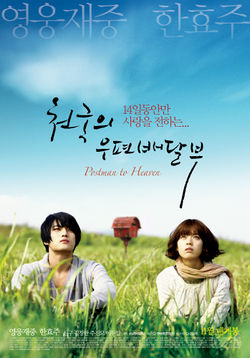 Postman to Heaven

(2040)



Other Title(s)
천국의 우편배달부
Heaven`s Postman
Genre(s)
Romance, Melodrama, Fantasy
Episode(s)
1
Synopsis
'Postman to Heaven' is a romance fantasy involving a special man and a love lorn woman.

Jae-joon (Yeong Woong Jae Jung) is a mailman, but not your typical mailman. He delivers letters to Heaven from people who miss their loved ones. Ha-na (Han Hyo-Joo) is one of those persons - she can't stop thinking about her deceased lover. Then a 14 day fantasy occurs between Jae-joon and Ha-na ...