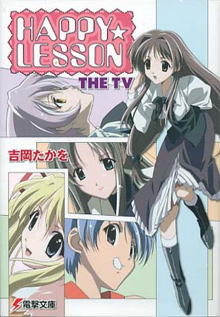 Happy Lesson (2002)

(1719)



Other Title(s)
HAPPY☆LESSON (2002)
Happy Lesson TV
Genre(s)
Comedy, Harem, High School, School Life, Slapstick
Episode(s)
14
Synopsis
A 15-year-old Hitotose Chitose moves out of the orphanage back to his vacant parent's house and finds himself very alone and unhappy. But when five of his female high school teachers decide to move in with him to become his new mamas, he learns that the chaos of their constant attention and concern change his life for the better, if only to teach him about the very special meaning of being part of a family and enjoying a quiet moment.

Each of his new mothers has something special to share with him; an artistic cosplay princess, a nurturing supportive homeroom mother, a rowdy athletic sports fanatic, a priestess (sword miko) high school nurse mother, and a quiet secretive (possibly mad) science teacher/mother. These five adoptive mothers accept not only Chi-kun, but also his two sisters. This is a very special story of a family tied not by blood, but of heart and love. But what of the female homeroom class president, who is appears to show a very special interest in the lazy and inattentive Hitotose-kun?