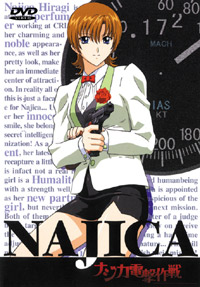 Najica Dengeki Sakusen

(1669)



Other Title(s)
ナジカ電撃作戦
Najica Blitz Tactics
Genre(s)
Action, Adventure, Ecchi, Human Enhancement, Pantsu, SciFi, Seinen
Episode(s)
12
Synopsis
17% of the land went under water by a catastrophe of a global scale, and the economy was considerably distorted. After that, 30 years have passed, and, the symptoms of revival have appeared all over the world. Our heroine Najica is a 27 years old perfumer who can classify the smell of more than 500 different kinds. Which she uses to produce hit perfumes, and lives a comfortable life.

But, she also has another as a top agent in a secret organization. One day, she was ordered by the organization to rescue a girl caught on a small island. Though she safely rescues the girl, the organization has ordered Najica to go into a partnership with the girl. Reluctantly, she starts living together with the girl. But, this girl has a certain secret.