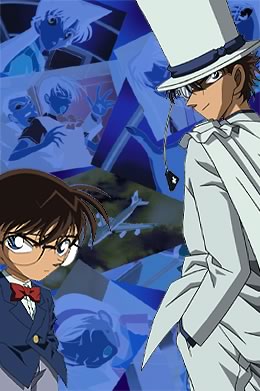 Meitantei Conan Movie 08: Gin`yoku no Magician

(971)



Other Title(s)
名探偵コナン 銀翼の奇術師[マジシャン]
Detective Conan: Magician of the Silver Sky
Genre(s)
Detective, Shounen, Action
Episode(s)
2
Synopsis
Maki Juri, the most famous actress in Japan asked Mori Detective Agency for her help. It was to guess the true meaning of Thief Kid?s crime preliminary announcement that he would rob her of her star sapphire ring, 'Jewel of Fate'.

Kogoro?s inferred that Kid would appear on the final day of the public performance, and he would rob the star sapphire during the play. The party of Kogoro, Ran, Conan, and boy detective group, who had been invited to the public performance, visited the theater 'Sora'. It was a newly established theater in the new famous place, Shiono Site of Tokyo, in order to confirm whether a crime would start as Kogoro predicted.

Conan had a big question about Kogoro?s interpretation of the preliminary announcement. He found inconsistencies of Kogoro?s superficial deductions, and waiting for the Thief Kid of an old enemy.