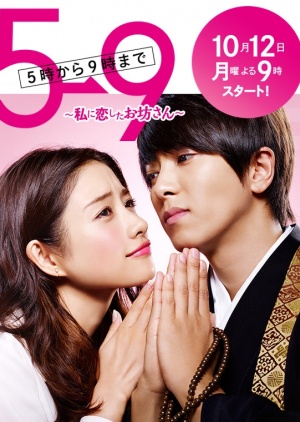 From Five to Nine (2015)

(4884)



Other Title(s)
Watashi ni Koi Shita Ikemen Sugiru Obousan
5-ji kara 9-ji made, 5→9~私に恋したイケメンすぎるお坊さん~
Genre(s)
Comedy, Drama, Manga, Romance
Episode(s)
10
Synopsis
Sakuraba Junko, an English language school teacher, has had no boyfriend even before her 29th birthday and dreams of working in New York. But one day, she encounters a handsome monk in the worst moment when she attends a funeral service at a temple. Because of numbness in her legs, she grabs the altar and ends up emptying the ash from burning incense on him while he is chanting the sutra. Although a rueful Junko thinks they will probably not meet again, she is deceived by her family and made to go for a matchmaking session. The other party is none other than that monk, Hoshikawa Takane.