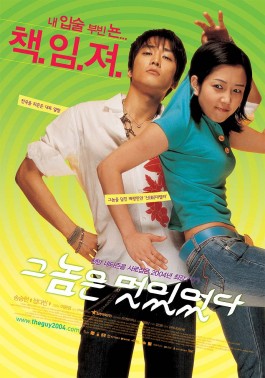 He Was Cool (2004)

(4339)



Other Title(s)
Geunomeun meoshiteotda
그 놈은 멋있었다
Genre(s)
Comedy, Romance
Episode(s)
1
Synopsis
Having replied to a wicked post on her school website, Ye-won keeps getting a threatening call from a boy named Ji Eun-sung. Having heard about him from her friend, she keeps running away from him. But they kissed accidentally when Ye-won was trying to escape from him. Having his lips stolen by Ye-won, Eun-sung threatens her to marry him, adding that no other girl has ever kissed him before. The only thing Ye-won can do is to obey for whatever Eun-sung said. At first, Ye-won just hate him the most for his self-righteousness and unreasonableness. But she gradually finds herself is starting to fall for him.