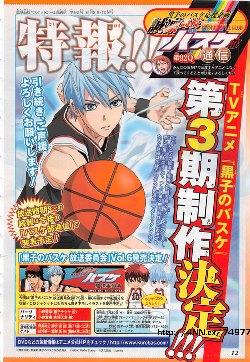 Kuroko no Basket 3rd Season

(4171)



Other Title(s)
Kuroko no Basuke 3rd Season

Genre(s)
Comedy, School, Shounen, Sports
Episode(s)
25
Synopsis
The third season of Kuroko no Basket. After winning a fierce game against Yosen High, Seirin High successfully advances on to the semifinals of the Winter Cup. They continue to aim to become the champions, but have to face many powerful opponents along the way.