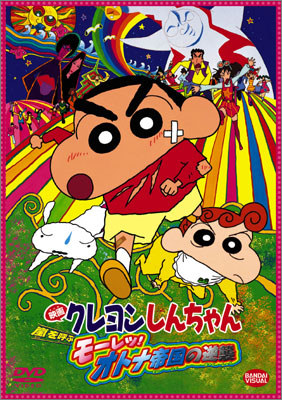 Eiga Crayon Shin-chan: Arashi o Yobu Mouretsu! Otona Teikoku Gyakushuu

(399)



Other Title(s)
映画 クレヨンしんちゃん 嵐を呼ぶモーレツ!オトナ帝国の逆襲
Crayon Shin-chan - Film 09, Crayon Shin-chan Movie 09
Genre(s)
Comedy, Seinen
Episode(s)
1
Synopsis
Shinnosuke and his family go to the 20th century museum, replicant of the 1970s World Expo in Osaka. His parents are exposed to nostalgia of their younger days, and are treated to the prospect of realizing their childhood fantasies once more. Unfortunately the curators of the museum have other plans of putting the future to an end, and living in the past century forever in their project 'Yesterday Once More.' This plan causes all the adults to lose their memories of adulthood, and live in the 20th century forever! What will happen to all the children if their parents refuse to grow up?