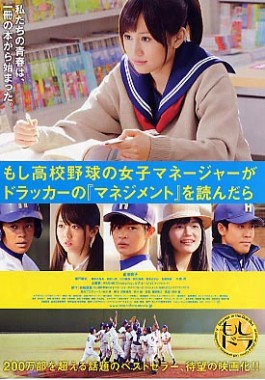 Moshidora (live action)

(3708)



Other Title(s)
Moshidora (live action)
もしドラ ~ã''ã—é«˜æ ¡é‡Žçƒã®
Genre(s)
School, Sports
Episode(s)
1
Synopsis
Maeda Atsuko of the pop idol group AKB48 stars as Kawashima Minami, a girl who becomes the manager of a high school baseball team for her best friend who has fallen ill. Looking for guidance, she goes to the book store and mistakenly buys 'Management: Tasks, Responsibilities, Practices', written by the late management consultant, Peter Drucker. Although the book isn't specifically about baseball, Kawashima takes Drucker's management philosophies to heart, carefully utilizing them in an attempt to transform her players from a group of unmotivated underachievers into a real team with a legitimate chance to reach the annual championship tournament at Koshien Stadium.