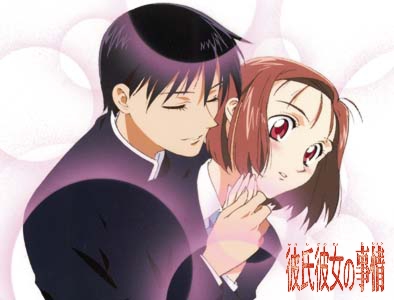 Kareshi Kanojo no Jijou

(331)



Other Title(s)
彼氏彼女の事情
His and Her Circumstances
Genre(s)
Comedy, High School, Romance, School Life, Shoujo, Slapstick
Episode(s)
26
Synopsis
Miyazawa Yukino has always been a show-off. She's always wanted to be Number One, to be the very best in everything, to be adored by all others. Then one day, she meets her match: Arima Soujiro, who seems about as perfect as she strives to be. But no one is quite what they seem ... for whenever Yukino goes home, off comes the 'ojousama' facade - and on go the headbands, reading glasses, and sweats. Miss Congeniality is in fact a conniving, petty con-artist with a streak of absolute nerdy bliss. Of course, Yukino isn't the *only* one hiding a secret, since Arima himself isn't quite what he seems either.
In her eager to become #1, she declares Arima as her archenemy, but then he declares his love for her ..