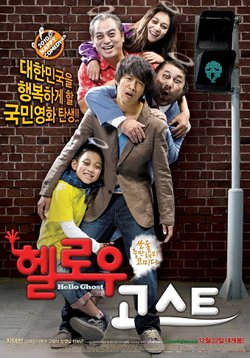 Hello Ghost (Kdrama)

(2489)



Other Title(s)
헬로우 ê³ ìŠ¤íŠ¸
Hellowoo Goseuteu (Kdrama)
Genre(s)
Comedy, Drama
Episode(s)
1
Synopsis
Sang-Man Cha Tae-Hyun attempts to commit suicide by jumping off a bridge and into a river. He fails, but the end result is that he starts seeing ghosts. Sang-Man then goes to the hospital and gets anl examination. Is he going crazy?
Meanwhile, Sang-Man meets nurse Jung Yun-Soo Kang Hye-Won at the hospital and quickly falls in love. But those pesky ghosts still haunt Sang-Man everywhere he goes. Sang-Man then attempts to help the ghosts fulfill their unrealized dreams to get them to leave him alone once and for all ..