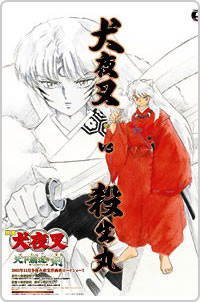 InuYasha Movie 3 : Tenka Hadou no Ken

(2140)



Other Title(s)
犬夜叉 天下覇道の剣
InuYasha The Movie 3: Swords of an Honorable Ruler
Genre(s)
Action, Comedy, Demons, Fantasy, Magic, Shounen
Episode(s)
1
Synopsis
Many years ago, Inuyasha's father, the Great Dog Demon, wielded the Three Swords of the Fang. Upon his death he bequeathed a sword to each of his sons, Inuyasha and his rival brother, Sesshomaru. He locked the third sword, the wrath-filled Sounga, away forever. Now, 700 years later, the Sounga's tremendous power has been awakened and the two brothers must set aside their differences and join forces in an unlikely and uneasy alliance to battle a force that spells doom for all mankind.