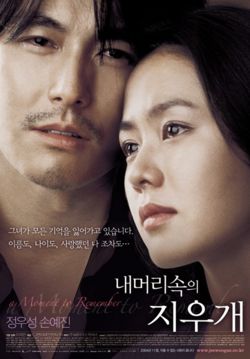 Nae meorisokui jiwoogae

(2126)



Other Title(s)
A Moment to Remember

Genre(s)
Romance, Drama
Episode(s)
1
Synopsis
The movie begins with Kim Su-Jin, a 27 year old fashion designer, being spurned at the train station by her lover, a colleague who is also a married man. Depressed, she goes to a convenience store where she bumps into a tall handsome man with whom she has a slight misunderstanding. Following that, she returns home and receiving the forgiveness of her father, decides to start life afresh. One day while accompanying her father, who is the head of a construction site, in making his rounds, she coincidentally meets the man whom she earlier bumped into at the convenience store. He is Choi Chul-Soo, the construction site's foreman who is also aiming to become an architect. Chul-Soo may appear like a rough and dirty construction worker initially, but he does exude sheer masculinity in its most basic physical form and is pretty handy when it comes to carpentry or house repairs. Su-Jin instantly takes a liking to Chul-Soo and in what is a refreshing change, actively courts Chul-Soo. There are many sweet events that take place in the event of their courtship which eventually lead to their marriage. From here though, things quickly go downhill. Su-Jin soon finds that she has contracted Alzheimer?'s disease and the rest of the movie depicts how she slowly and painfully loses bits of her memory until she totally cannot remember anything. Even more painful is seeing Chul-Soo agonise while watching the wife he loves dearly forget even who he is. The ending is bittersweet one but at least offers a glimpse of hope.